In June we moved into our new headquarters in Bauhaus, by Manchester's Spinningfields. The time had come to find somewhere new that could support our growth and ambition for the next decade.
We spent 7 years in our former home at Giant's Basin, and didn't take the move lightly. Keeping a city-centre location was crucial, and we wanted somewhere that stood out, with space and amenities to match. Bauhaus was the perfect location, so we chose the top floor.
We wanted a bespoke, functional space that could wow clients and colleagues alike, so we brought in design experts Overbury to make that happen.
Watch our video chronicling the new office here.
The Vision
Our vision of what we wanted the new office to be like was quite clear. We took inspiration from some of our favourite places and spaces from around the world, including W's New York Times Square hotel, as well as the offices of investment managers and creative agencies from London to Singapore.
Each meeting room has dedicated touchscreens that allow members of the team to see when rooms are free, or book them on the fly.
It was important that the new office felt luxurious, high-tech and practical: a reflection of the status of our clients and ourselves. This meant a high-end, boutique feel, with plush furnishings and outstanding attention-to-detail, accompanied by the latest in videoconferencing and audiovisual hardware.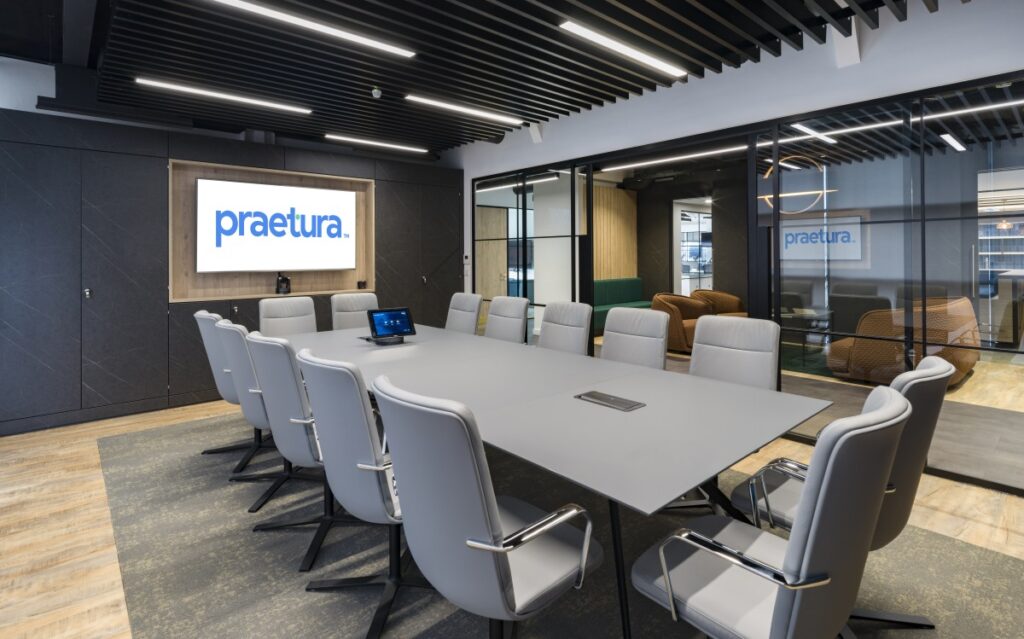 Praetura's boardroom, 'Manchester', seats up to 14 people in Italian leather armchair comfort.
The design and development process was hands-on, with strong collaboration between Praetura's senior management team and the experts at Overbury. After a dozen iterations or so, we created the perfect plan and set about making it happen.
The Result
After around six weeks of furnishing and installation, the new office was ready to host up to 40 members of the Praetura team.
Praetura's amphiteatre area, called 'The Inspired Lounge'. Two-tiered seating accompanied by breakfast chairs allow for company meetings in style.
Visitors are welcomed by two large HD displays, and a custom underfloor sign.
Details of the new office include:
• Two 4-panel HD displays, welcoming visitors as they enter the office
• A total of 23 television screens displaying KPIs and metrics
• Five meeting rooms with ceiling-mounted speakers and videoconference functionality
• Dedicated management suite, as well as an agile working space
• 3 call booths, designed to reduce noise for phone calls
• Custom kitchen area with 12' breakfast bar
• 86" 4K display with bleacher seating for company presentations
• iPad-powered automatic coffee machine and 2 drinks fridges
• Underground parking and showers facilities
• Dedicated bicycle storage with repair workstation